OUR ON-GOING PROJECTS
Two distinctive areas within the existing SGP geographical focus area were selected as main target landscapes for SGP Ukraine's focused actions.
The first is selected as a mixed forest zone covering the entire territory of Zhytomyr and Kyiv Polissya. For the second area the entire territory of high importance steppe zone - Priazovye steppes with granite and sandstone extraction was selected representing Ukrainian steppe landscape that is the only virgin and unique in Europe.
Map showing the two target landscapes: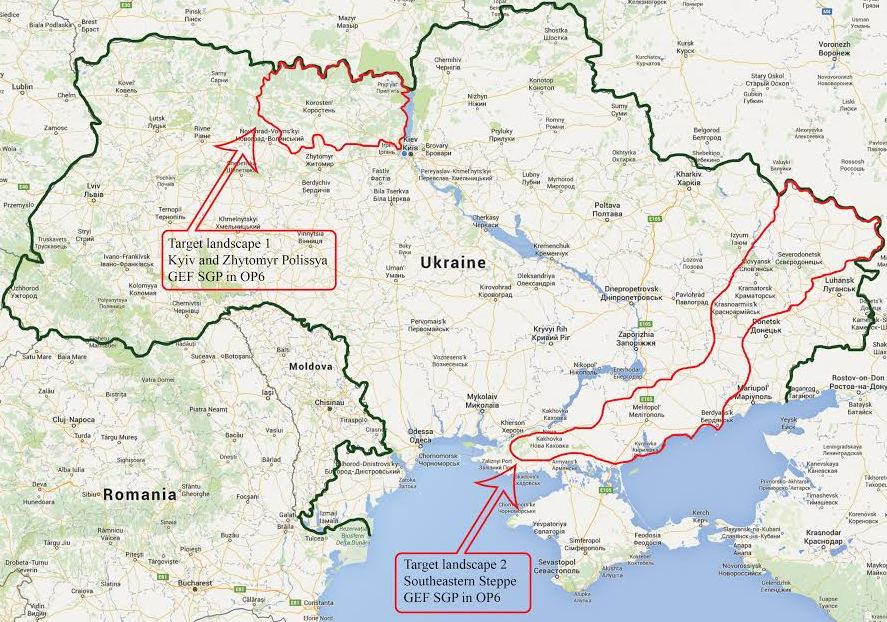 Please, note that Kyiv and Zhytomyr Polissya landscape include the following administrative districts:
Zhytomyr region - Volodarsko Volynskyi, Emilchinskyi, Korostenskyi, Lugynskyi, Malyn, Narodytskyi, Ovrtskyi, Olevskyi, Cherevonoarmiyskyi, Cherniahivskyi, and Radomyshlskyi districts;
Rivne region– Rokytnivskyi district;
Kyiv region - Borodianskyi, Vyshgorodskui, Ivankivskyi, Kyiv Sviatoshynskyi, Makarivskyi, and Polisskyi districts.
Steppe landscape encounters:
Lyhansk region: Novopskovskyi, Bilovodskyi, Novoaydarsky, Bilokurakynskyi, Svativskyi, Troitskyi, Milovskyi, Starobilskyi, Markivskyi, Popasnianskyi, Kremenskyi districts;
Donetsk region: Slovianskyi, Bahmutskyi, Constantyniskyi, Dobropilskyi, Krasnolymanskyi, Volnovaskyi, Volodarskyi, and Pershotravnevyi districts;
Zaporizhia region: Rozivskyi, Kuibyshevskyi, Pologivskyi, Berdianskyi, Tokmakskyi, Chernihivskyi, Prymorskyi, Myhaylivskyi, Melitopolskyi, Pryazovskyi, Veselivskiy, Yakymivskyi districts;
Kherson region: Bereslavskyi, Kahovskyi, Ivanivskyi, Bilozerskyi, Tsyurupynskyi, Chaplynskyi, Novotroitskyi, Henicheskyi, Goloprystanskyi, Skadovskyi, and Kalanchatskyi districts.
The entire selection process has been guided or conducted applying a number of criteria identified for this purpose and facilitated with intensive discussions and interviews with NC, NSC, civil society groups, local authorities, community associations and other stakeholders within a short time span. SGP OP6 Strategic Initiatives have also appeared as important factors in selecting the two landscapes. The following criteria have been worked out:  
- The number of community groups within landscape(s).
- The number of marginalized community groups within landscape(s).
- Poverty level in the communities within landscape.
- The socio-ecological importance of landscapes/ecosystems.
- Possibilities for conducting landscape-wide activities.
- Possible maximum rate of coverage of communities at landscape level.
- Possibility of using SGP successful grantees for transferring their knowledge and experience to communities within the selected landscapes.
- Location of biodiversity hotspots.
- Representation of Ukraine's geographical zones.
- Environmental significance of the selected landscape.
- SGP and UNDP experience and lessons learned in working with communities to contribute global environmental benefits.
These target landscapes need the implementation of a series of innovative climate-smart agro-ecological measures directed to rangeland management, climate resilient development and combating land degradation with particular activities such as green belts systems and community green infrastructure.
SGP plans to involve 150 new community groups in the programme from the two targeted landscapes. Most of projects should be designed in a way that each grant is led by a successful grantee community or NGO and involves a range of new communities, covering the entire landscapes or at least considerable portions of the landscapes. This approach enables the lead community or NGO to easily transfer their practice-based knowledge, experience and lessons learned to new community grantees.
SGP in Ukraine develops an integrated country portfolio that contains projects that are linked thematically and geographically with the successfully implemented and on-going GEF MSPs and FSPs. The GEF SGP projects aims at creating synergies between projects, contribute to global environmental and human development benefits. The completed, on-going and planned activities where GEF is the leading source of funding are catalysing environmental awareness to the local public to accomplish certain visible results on a local level. The GEF SGP aims to create close links with these projects and their results. Since the GEF funded projects are in the areas where SGP is present, SGP continues to work with communities for global environmental benefits, improved livelihoods and strengthened empowerment.