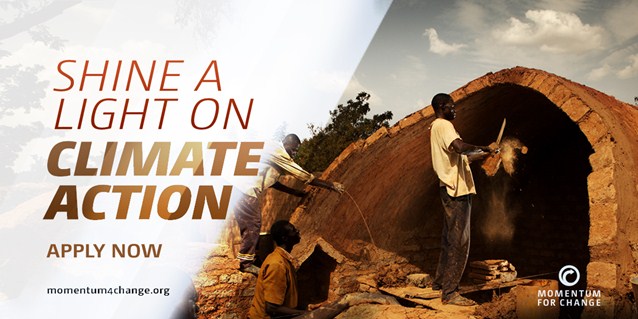 Submit Your Climate Solution and be Celebrated at the UN Climate Change Conference in Marrakech, Morocco
The United Nations Climate Change secretariat is now accepting applications for the 2016 Momentum for Change Awards to showcase action and ambition as national governments work toward implementing the historic Paris Agreement.
Selected initiatives, called 'Lighthouse Activities,' shine a light on innovative, scalable and replicable examples of what people are doing to address climate change, in the hope of inspiring others to act. They will be recognized and celebrated during a series of special events in November at the UN Climate Change Conference in Marrakech, Morocco.
Who can apply?
Organizations, cities, businesses, governments and other key players that are taking concrete action on climate change can apply to have their projects recognized as a 2016 Lighthouse Activity.
Why should you apply?
Attendance to the 2016 UN Climate Change Conference in Marrakech, Morocco (COP 22)
Access to policy makers and potential funders during the conference
Public recognition by the UN Climate Change secretariat
Public relations support and media training
High-quality promotional videos and podcasts
Graphic assets such as infographics and professional photography
A dedicated page about your project on our website
How to apply?
To apply, you'll need to first register in our application portal. It will take at least an hour to complete an application but you can save your progress at any time and work on it at your convenience. Completed applications must be submitted by 23:59 GMT on 25 April 2016.
What are the categories?
The 2016 Momentum for Change Lighthouse Activities will recognize climate action that is already achieving real results in three key areas. Watch our short videos and visit our website to learn more about each category:
Women for Results: Learn how women play a leadership role when it comes to tackling climate change.
Financing for Climate Friendly Investment: Learn how innovation is playing a key role in unlocking financial resources for climate change initiatives.
ICT Solutions: Learn how information and communications technology (ICT) can reduce energy use, cut greenhouse gas emissions and build resilience to climate change.
For additional details, last year's participants and criteria please see the link.